Robin Hutchinson
Board-Certified Holistic Nutritionist
Founder of Healthy Nest Nutrition
Robin uses a combination of science, nutrition counseling and practical tools to help clients achieve the best diets for their bio-individual bodies. She firmly believes that the gut holds the secrets to foundational health.
Credentials
Education
Board Certified in Holistic Nutrition
Masters of Nutrition Therapy (MNT), 2012-current
Nutrition Therapy Institute
Digestive Intensive Graduate 
Holistic Nutrition Lab, 2016, 2022
Ongoing Continuing Education for Nutrition Therapy
Certifications from:
Apex Energetics, Xymogen, Inc., Dr. Natasha Campbell McBride (GAPS), & Institute of Psychology of Eating.
Completed Courses Include:
The Brain-Gut Axis
Detox: An Integrated Approach
Neurotransmitters and the Brain
Breaking the Complex Web of Leaky Gut
Understanding the Complexity of Gluten Sensitivity
The Belly Blues
Mastering the Thyroid
Functional and Blood Chemistry Analysis
Gut & Psychology Syndrome
Transforming Your Relationship with Food
Masters in Business Administration (MBA), Marketing
Syracuse University
Bachelor of Arts (BA), Sociology & Economics
Newcomb College, Tulane University
Associations & Awards
National Association of Nutrition Professionals (NANP)
The NANP is the only professional business organization wholly dedicated to furthering the cause, education and standards of the holistic nutrition industry in the United States.
Member since 2010.
Best Nutritionists in Denver Award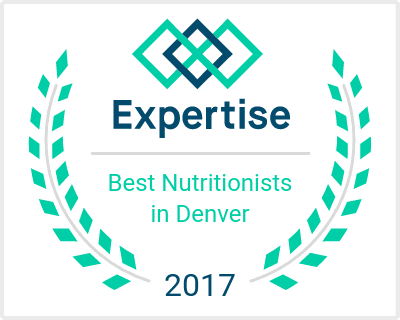 Expertise.com has selected Healthy Nest as one of the best nutritionists in Denver from 2017 to 2022.
Top 100 Nutrition Blogs Award
In 2016, Feedspot.com selected Healthy Nest as one of its Top 100 Nutrition Blogs.
Best 100 Nutrition Blogs Award
Healthy Nest was honored in 2015 as one of the Best 100 Nutrition Blogs by the Institute for the Psychology of Eating.