Denver holistic nutritionist
founder of Healthy Nest Nutrition
Robin Hutchinson is board-certified in holistic nutrition by the National Association of Nutrition Professionals. She part teacher, part coach, foodie by birth, family cook extraordinare, and truly passionate about how food impacts well-being.
Robin's natural interest and curiosity led her to the Nutrition Therapy Institute to gain the science & expertise of how food is used in the body to promote health. Her schooling included 2 years of classroom time, 600 hours of intensive coursework, researching and presenting a thesis, and extensive interning with several holistic practitioners.
As the founder of Healthy Nest Nutrition, it is Robin's vision to share her commitment to using good quality whole foods as agents for change. Robin believes that if you give your body the nutrients it needs, it will heal itself.
Robin has coached thousands of people on finding their 'best diet.' She uses many different diet protocols, and then customizes them to meet client's individualized history, lifestyle, and goals. She makes diet plans doable, thereby setting clients up for their own long-term success. Her work combines up-to-date nutrition science with nourishing traditions, which is a powerful combination that she has honed over many years.
Robin works with clients who have significant digestion, autoimmune & focus issues as well as struggling families who need a shift toward whole foods. She sees clients in her office near the Cherry Creek neighborhood in Denver, CO, or via phone or Skype.
When she is not talking diet with clients, she is carpooling kids, reading cookbooks, tending to her city garden, whipping up dinner, doing yoga or enjoying the Colorado sunshine.
Education
Board Certified in Holistic Nutrition
Masters of Nutrition Therapy (MNT), 2012-current
Nutrition Therapy Institute
Digestive Intensive Graduate 
Holistic Nutrition Lab, 2016
Ongoing Continuing Education for Nutrition Therapy
Certifications from:
Apex Energetics, Xymogen, Inc., Dr. Natasha Campbell McBride (GAPS), & Institute of Psychology of Eating.
Completed Courses Include:
The Brain-Gut Axis
Detox: An Integrated Approach
Neurotransmitters and the Brain
Breaking the Complex Web of Leaky Gut
Understanding the Complexity of Gluten Sensitivity
The Belly Blues
Mastering the Thyroid
Functional and Blood Chemistry Analysis
Gut & Psychology Syndrome
Transforming Your Relationship with Food
Masters in Business Administration (MBA), Marketing
Syracuse University
Bachelor of Arts (BA), Sociology & Economics
Newcomb College, Tulane University
Associations & Awards
National Association of Nutrition Professionals (NANP)
The NANP is the only professional business organization wholly dedicated to furthering the cause, education and standards of the holistic nutrition industry in the United States.
Member since 2010.
Best Nutritionists in Denver Award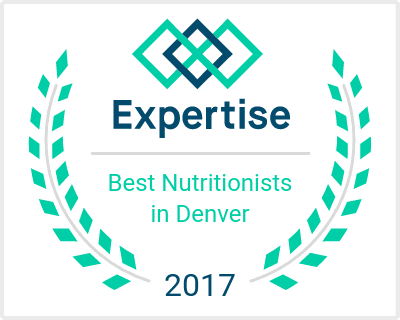 In 2017, Expertise.com selected Healthy Nest as one of the best nutritionists in Denver.
Top 100 Nutrition Blogs Award
In 2016, Feedspot.com selected Healthy Nest as one of its Top 100 Nutrition Blogs.
Best 100 Nutrition Blogs Award
Healthy Nest was honored in 2015 as one of the Best 100 Nutrition Blogs by the Institute for the Psychology of Eating.
get started with a free consultation!